Andrew Kelly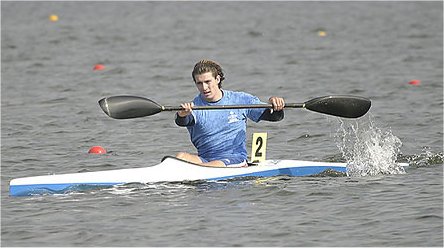 Date of Birth 03/09/83
Height 6'
Weight 81kg

Club and Former Clubs
Royal (paddled for Elmbridge 1997 - 2000)

Age begun canoeing?
14

Coach and Former Coaches
Nandor Almasi, Trev Hunter, Imre Kemecsi, Roland Lawler

Favourite Training Venue?
Royal Canoe Club

Preferred Racing venue?
The best place I have ever raced in the Olympic regatta course in Athens

Favourite Training Session?
Lock to Lock, 14km paddles.

Favourite Training camp Location?
Seville, Spain

Why do you enjoy canoeing so much?
Good fun, good times have a laugh while training. I like being competitive

What specific training do you do for 200m?
Start Training; involves balance exercises, three stroke starts and over rating paddling

What is your Occupation?
Student

What does your typical day consist of?
Wake up
Eat breakfast
Go running
Do an hour or so in the gym
Go to lectures
Have lunch
More lectures
Go to the gym
Do some work
Go for a run
Relax
Go to sleep

How do you feel that 200m is developing on the UK and the international scene?
I think that it is not really looked at, as a serious event in this country. However other countries do, as it is a World Championship event.

What current equipment are you using and how does this benefit your performance?


Braca 1 paddles, shaft is sanded down to the carbon for greater grip and control
Hody orca boat.
Padded pull plate so I can get a real feel for the boat and use my body
more to control it
Wooden seat with slightly small than usual holes for comfort (no point being uneasy in the boat your expected to perform in)
Hair band to keep my hair out of the way while racing, this increasesmy vision, concentration and awareness of the race developing around me.

Do you have any other interests other than kayak?
Paintballing
My university degree
Partying
Rock climbing
Making things

What is your International History?
Bronze at the world cup marathon in tyn 1999 age 15
Gold in k1 world cup marathon germany 2000 age 16
Gold in k2 world cup marathon germany 2000 age 16
4th in k1 world cup marathon Canada 2000 age 16 (Junior World Championships)
Gold in k2 world cup marathon Canada 2000 age 17 (Junior World Championships)
Finalist in the k2 500 junior Europeans france 2000 and 16
2nd in b final of the k1 500 junior world champions 2001 age 18
finalist in the k1 1000 at the pre Olympic regatta Athens 2003 age 19

What is you favourite distance (K1-2-4, 200, 500, 1000)?
K1 500 and k1 200 although I have a recently found like foe the k1 1000.
The k2 500 was a particular favorite in the past

What do you wish to improve upon for next year? And What are your plans for next season?
My fitness, endurance, strength, speed on the water and most of all my technique

What do you feel is the most important part of 200m racing?
To keep accelerating all the time, to keep pushing your speed, but how is a secret. The start is also very important, a bad start wont loose the race for you, you can still win if you work very hard, but a good one will almost certainly secure a win.

Talk us through your k1 200 race at the Nationals 2003?
Can't really remember it I think that I had a bad start and had to claw my way back on gav all the way to the finish

How do you feel about your overall performance this year?
I didn't concede a single 200m race this year. So that's good Started off this year at the bottom of the pile due to injury, but made a good come back and performed really well in competition.

How do you feel to be undefeated UK Champion this season?
Hasn't really change my life, but I do want to try and win every 200m race I do next year by further than this year.

How do you feel about not being taken to the World Championships in K1 200m?
I know the reasons for not going to the worlds and they don't bother me. For me to have gone, I had to be good at the beginning of the year and get in a crew boat, I wasn't. but next year I intend to be good at the beginning of the season.