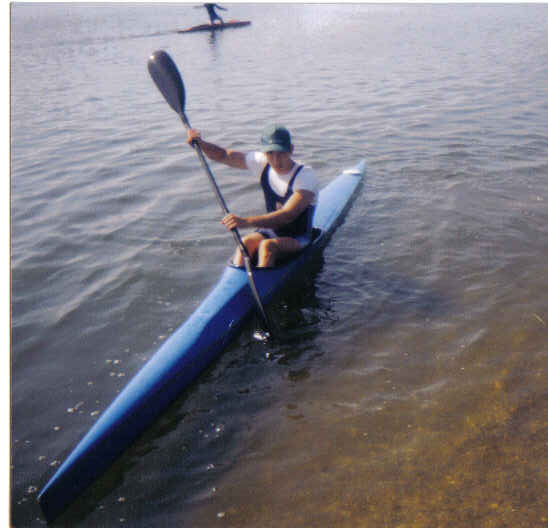 Name Milos Grujic
Date of Birth 23/07/81
Height 186cm
Weight 78kg
Canoe Club Zemun (Belgrade)
Home At the moment Belgrade
Age begun canoeing? 11
Coach Petrovic Zoran

What Made you decide flatwater was the sport you wanted to do?
First I started to training athletics, basketball, table-tennis but to me it was boring. I didn't know what is kayak, my father's friend was a coach and I said why not? I was 11 years young.

Why do you enjoy canoeing so much?
To me maybe it's the most beautiful sport. Open air, lake or river, no fat, whole body works, lots of friends and most of all-no injuries!

Preferred Racing Distance?
I like 200m most, but I like 500m also, because to me it's just a long sprint :-)

Favourite Training Session?
Series up to 2 min. from 15 sec increase with the same rest time that you work, and back / 2-3 series. Pyramid, if you like! (15s, 30s, 45s, 60s, 75s, 90s, 105s, 120s and back is one series)

Favourite Training Camp Location
Silver lake, about 100 km from Belgrade, 14 km long and 500 m wide, surrounded by trees.

What is your most memorable moment in racing?
Crossing the finish line 3 times as a first in K4 1000,500,200 m, in just 3-4 hours at the National championship two years ago !
Do you have any pre race ritual ..which brings you luck?
Warming up always in the same way !?

Do you study and if so what are you studying?
I am student at the Faculty of Sport and Phisycal education, Belgrade.

What do you have planned for the future??
If it's possible to stay in sport, as a coach or !K

What are your best performances??
My best results are-2002: K4-1000,500,200!V1st in National champs, in K2-500,200-2nd; 2003 I were in National team U-23 and in Snagov (ROM): K4-500,200-2nd also in WC Seged 2003 in K4-200 we were I think 12 or 13. And few times champ of Serbia in K2 and K4.

How do you feel about your overall performance last year?
Could been better, not like two years ago.

What do you wish to improve upon for next year?
To be more explosive and to improve my technique.

Equipment used?
We don't have private boats in club, so boat is csepel or a copy of nelo or plastex (mosquito,destroyer etc.). Paddles are private and mine is small Bracsa 4.

What is the current situation with Kayak in Serbia?
Hm, we didn't qualify for Athens but went on a wild card, last few years no results, no educated coaches, no financial resources! On the other side we have hundreds of kids training every day two times, great places to paddle on, lots of lakes and rivers, huge potential and desire to compete.We can't hold here super-talents such as Natasa Janic and we all saw how she became Olympic Champion in K1 and K2 in Athens but for Hungary, although she was 4th in Sydney in K1 for Serbia!!
No changes = no future for kayak and canoe in Serbia!

What do you feel is the most important part of 200m racing?
Start and last 50 m. Luck, good start and try not to drown youre boat last 50 m-give your 150 %. :-)

Motto
It's all in youre head; say what you want and go for it!!