Vince Fehervari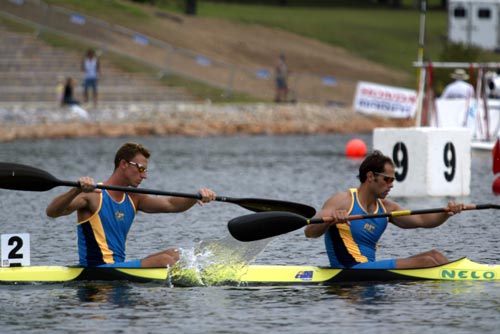 Date of Birth 16/04/1972

Club Training at the Gold Coast, Australia
Hometown Budapest
Age begun canoeing? 12
What Made you decide flatwater was the sport you wanted to do?
My brother was a canoe paddler when I started. He is 3 years older then me. Actually he won the junior world champion title in C-4 500 in 1987. I think that was the reason why I started to paddle, but I can't remember exactly, but I love it and the people in it. I met with all my best friends through the sport. I grew up with my friends, and I have a lot of nice memories from the past 20 years.
Preferred Racing Distance? 200m
Why do you enjoy canoeing so much?
Freedom being in the nature, seeing that I gratify so much people
What would you deem to be your most successful race?
In 1997 K1 Canada Word Championship. It was my first World title wining. It was easy.
What is the secret to racing a fast 200 metre race?
How should I know? :-)
I'm still working on it.
What current equipment are you using?
I have been paddling in a large Nelo Vanquish from 2002. I am very satisfied with it. I am using that bout, because I think it is the best one. And I have been paddling with Braca 1 paddle form 1990. I have never changed. I think the above mentioned 2 product is the best buy for your money.
Do you have any other interests other than kayak?
Kayak, Soccer, Tennis, Travelling, Music, Ski
Do you study and if so what are you studying?
Level 2 Coaching Scholarship with the Australian Sport Commission.
Certificate IV in Information Technology at Spherion (Computer Power) Training Institute.

What do you think needs to be done to promote 200 meter racing around the World?
Maybe a couple of people who are not afraid of change, who can see the short distance is the possible future of this sport, because the 200m is easier to organise and broadcast, example it doesn't need long course, it is possible to transact on the small pond in the middle of the busy city. Because everything is so close there is a possibility to accommodate logos of the sponsor companies.
And I think necessary some enthusiastic talented managers who are committed to short distance. Etc.
Will 200 metre racing ever be in the Olympics?
I hope, very soon. I would like to participate.

The Big Move to Australia:
I moved to Australia in 19 09 2002 and have been competing for Australia for 2 years mow.
What motivated you or made you decide to become an Australian citizen?
I moved residence to Australia to pursue a career in kayak coaching and realise my dream of competing at the Athens Olympic Games in the year 2004. (Bugger) next time.

Where to from now? Are you considering an attempt to make the Australian team for the Beijing Games at all?
I have recently applied for a Level 2 Coaching scholarship with the Australian Sport Commission, and for a full time coaching position at the elite sprint canoe facility at Robina, a joint venture between Australian Canoeing, the NSW Institute of Sport and the Queensland Academy of Sport. So, my destiny in the AC hand right now. I already have some opportunity, but Ilove to stay in Australia

What have you achieved since moving to Australia?
In 2003 during the Australian domestic kayak season I was successful in qualifying for the Australian Team. At the 2003 World Championships, I finished second and collected a Silver medal for Australia in the K1 200m. Unfortunately I wasn't able to compete at the 2004 Athens Olympics, because I did not receive my Australian Citizenship before the Games.
I have completed a Certificate IV in Fitness Instruction and Personal Training with the Australian Institute of Fitness, as well as my Level 1 kayak coaching qualification.

Currently I am a full time student in the Certificate IV in Information Technology at Spherion (Computer Power) Training Institute, and am expected to complete the course in December 2004.
I have also completed some other courses such as Bronze Medallion, Senior First Aid, my Boat license and I also work part time as a lifeguard at Wet and Wild Water Park.

I have 1 brother and 1 sister. They are older than me. I have been paddling for 20 years. I am single, but I have a long term relationship with my girlfriend. She is Hungarian as well.

Please check out my website for more information.

Other Pics:
WORLD CHAMPIONSHIPS:
1993 Copenhagen:
K4 500m 3.place
1994 Mexico:
K1 200m 2.place
1997 Halifax:
K1 200m 1.place
K2 200m 1.place
K4 200m 2.place
1998 Szeged:
K2 200m 1.place
K4 200m 1.place
1999 Milan:
K2 200m 1.place
K4 200m 1.place
2001 Poznan
K4 200m 1.place
2002 Seville:
K4 200m 3.place
2003 Atlanta:
K1 200m 2.place
12 medals
EUROPEAN CHAMPIONSHIPS:
1997 Plovdiv:
K1 200m 1.place
K2 200m 1.place
K4 200m 1.place
2000 Poznan:
K2 500m 3.place
K4 200m 3.place
2001 Milan:
K1 200m 2.place
K2 200m 2.place
K4 200m 1.place
2002 Szeged
K1 200m 2.place
K2 200m 1.place
K4 200m 3.place
11 medals
AUSTRALIAN SELECTIONS:
2003 First selection:
K2 500m 1.place
Second selection:
K2 500m 1.place
K1 200m 1.place
K2 200m 1.place
AUSTRALIAN CHAMPIONSHIPS:
2003 Penrith:
K1 200m 1.place
K2 200m 1.place
2 medals
HUNGARIAN CHAMPIONSHIPS: 32 gold medals

Profile brought to you with thanks from Vince Fehervari and an existing interview that was shared with us.