Orca
Review by John Astbury

Model: Hody-Sport Orca 2003
Size: Middleweight (70-85 kilo)
Construction: Carbon-Kevlar Sandwich Vacuum
Width: 38cm
Height: 26cm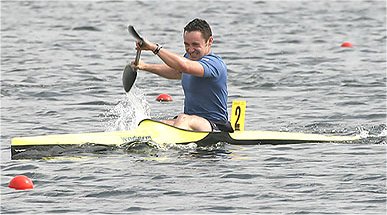 John Astbury - BCU June Regatta- Holme Pierrepont, Nottingham

Design Of Boat
Wingless K1 with Little rocker (boat very similar to Lettmann Vegas designed by Lutz Liwoski)
The orca was designed by Hody-Sport for knut Holmann to be used at the Sydney Olympics, He won both th 500 and 1000 K1
Review
The Orca is of excellent construction, and is thoughtfully designed. The Seat and foot plate are mounted on spring-loaded rails which chan be adjusted on the water at a pull of a lever, this is especially useful if you have to make any quick adjustments to the boat.
The construction was very rigid, no visible flaws in the hull, and all seams taped with carbon to produce a very strong boat. The colour was also exactly reproduced from the colour card i cupplied to them. the only difficulty i had with the boat was setting up the pull bar which is very fiddly and akward, the apparatus on this tends to repeatedly come lose between races which can be time consuming and frustrating to tighten. the boat is fitted with a bulkhead which acts as a bouyancy tank in the rear and also adds to the rigidity
A nice addition to the boat was a fitted boat bad with was included in the reasonable price that i payed for this boat.
The boat that I purchesed was the first of the 2003 designs to be imported into the UK. I was suprised to see a totally different top deck design to that on the previous models, with the top deck of the 2003 looking very similar to a scorpian.
The hull of the boat is that of a lettman vegas, it has litte rocker and tracks very well in the water. When paddled the orca is very stable, a vast improvement on the wings designs (pre sydney) it allows the paddler a solid and stable base to work from, thus being able to transmit all power though the blade, the boat is slow to accelerate due to the hull profile, (this may be phycological) however one the hull is at speed, it holds a very steady course and feels very fast. there appears to be little yawing affect on the boat.
Flaws
Complicated pullbar assembly, is hard to set up to the exact position and keeps coming loose, the cockpit rim is also slightly too small and struggles to keep a spraydeck attached.
Overall Reccomendation
This boat deserves a 3 out of 5 because it represents excellent value for money, it is well constructed (even better than some of its more succesfull counterparts) the addition of a bag is a bonus. The after care service has been second to none, with the president of the company e-mailing and checking that i am happy with the boat and everything is working properly. However what brings this boat down is its inprecise fittings.