Van Dusen Mohawk K1 Racing Kayak
New Design - The Van Dusen Mohawk K1 is the latest model in an award winning line of kayaks from Van Dusen Racing Boats. The Mohawk incorporates the new ICF rule change plus additional refinements on the already successful Tiburon, Eagle, and Hawk K1 models.

Built For Performance - From the low wetted surface hull to the stern-hung rudder, the Mohawk is built for speed and performance. The Mohawk's narrow deck allows the paddle to be placed closer to the centerline for maximum stroke efficiency. In recent independent tank testing against leading European ICF boats, Van Dusen kayaks scored the lowest hydrodynamic drag of all boats tested.

Athlete Driven Design - The Mohawk's cockpit design continues Van Dusen's commitment to athlete input on comfort, adjustability, and durability. Train harder and longer in comfort with the Van Dusen Mohawk.

Performance Through Applied Technology - For over 25 years Van Dusen has led the application of composite technology to superior boat design. The results are simply the lightest, stiffest, and fastest, racing kayaks available today. The proof is in the numerous wins at international competitions.


The Van Dusen Difference
Winning Design
? Lowest frictional, wave, and aerodynamic drag
? Ergonomic deck for efficient stroke technique
? Cockpit comfort and adjustable
? Meets 2000 ICF specifications
Superior Materials
? UV resistant urethane surface coat
? Pre-impregnated cloth
? Custom braided carbon
? Nomex honeycomb core
Advanced Manufacturing Process
? Autoclave cured under heat and pressure for maximum strength and stiffness
? Vacuum bagged laminates
Boat Model
Mohawk 85
Mohawk 66
Target Weight
85kg
66kg
Specifications
Weight = 6.8-10.0kg*
Length = 530 cm
Max Beam = 41.2 cm
Max Depth = 29.5 cm
Weight = 6.5-9.5kg*
Length = 530 cm
Max Beam = 41.2 cm
Max Depth = 28.4 cm
Description
K1 ICF Racing Kayak incorporating 2000 rule changes
Laminate Options
Competition -Carbon fiber, cored laminate
Elite -Carbon fiber and Nomex core
Steering
Standard: Tiller controlled stern hung rudder Optional: Under hull rudder
Color Options
Elite = Light Gray Competition = Light Blue Additional colors available upon request
* Actual Weight is a function laminate material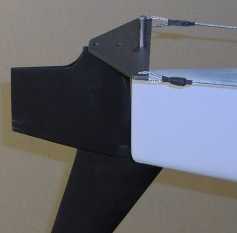 Date Posted 25-Nov-03